2019 Terri McNorton SHSMD Rising Star Award Recipient
---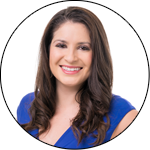 Cristal Herrera Woodley
Director of Marketing, Communications and Customer Engagement
Renown Health
In the words of her nominator:
"Cristal has a knack for connecting the dots between all the teams and excellent people that keep Renown moving forward every day."
"She...inspires everyone around her to perform their best each and every day."
"Cristal exemplifies the SHSMD values of people, integrity, leadership, diversity, collaboration, excellence, innovation and growth and development."
"Cristal has led local, statewide and national efforts to improve the health of our community through the Healthy Nevada Project and Healthy USA Project."
The 2019 Rising Star award also recognizes the many contributions of Terri McNorton to SHSMD and to the health care strategy profession. For nearly two decades, Terri served as vice president for three major regional health systems, General Health System Baton Rouge, Louisiana; Ochsner Health System New Orleans, Louisiana; and Bon Secours Health System based in Marriottsville, Maryland.
During her career, she was awarded over 100 regional and national honors for marketing and communications achievements, including SHSMD's Leadership Excellence Award, and she dedicated much of her time to developing the profession.
Terri openly shared her expertise with her peers through presentations of SHSMD's annual conference and various other national and regional events. She served on the SHSMD board for several years and held volunteer leadership roles at many other professional and trade organizations. She also mentored many young professionals, gladly sharing her insights and advice.
Terri McNorton left this world peacefully on January 1 of this year, after a long battle with cancer. Terri's beautiful, generous spirit and record of achievements were an inspiration to all who knew and worked with her. The SHSMD board is proud to name the 2019 Rising Star award in her honor.